In a communication to BJP booth workers, PM Modi has targeted Priyanka Gandhi's entry into politics. He said that for some people the family is the party, the party itself is the family for us. Our protest is from the culture of Congress. The Congress-free country means from the Congress free culture. He was talking to the workers of Maharashtra during a dialogue with the BJP booth workers.
Targeting Mamata Banerjee, PM Modi said that the government there did not allow elections in a democratic way. They continued on the path of dictatorship, but we are committed to democracy and will always keep going on that path.
Apple iPhone XS and XR, the company planning to be soon in India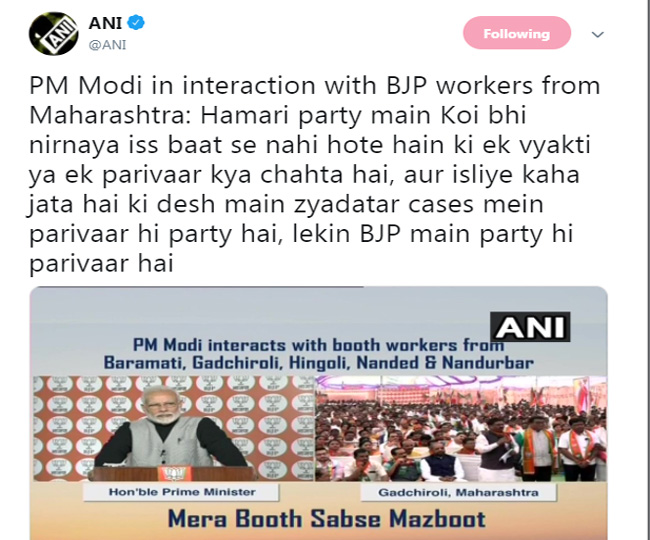 Mukesh Ambani's Reliance Retail is one of the top 100 retail companies in the world
PM Modi said that the whole country is seeing today that our strategy of defeating Maoism is being fully successful. About 4.5 thousand kilometers of roads have been constructed in Maoist affected districts. To increase connectivity, 2400 mobile towers have been installed. 8 new Central Schools are being opened in Maoist-hit districts.
PM Modi said that in order to eliminate corruption we started the process of self-attesting certificates for students. By promoting the digital process, we have got success in preventing corruption. Passport making today has become much easier than before.
PM Modi said that the Congress party is trying to challenge the court from the back door against the sacred work of reservation given to the economically backward poor by our government.
Enrollment Letter for WBCS 2019 Prelims, Check Here
JEE Main 2019 final answer key of the examination, check here
Download Bihar board admit card for 10th, 12th