In the first ODI between India and New Zealand, there was such a strange phenomenon that never happened in the cricket ground. The match had to stop the match for half an hour due to sunlight in this match. This was the first time in international cricket that the match was stopped due to the sun's bright spotlight. Even before that on the field of cricket, there have been many such rare incidents that have caused the match to stop. Let's tell you about some such incidents-
Enrollment Letter for WBCS 2019 Prelims, Check Here
Bees interfere in between matches
2017 in Johannesburg In the third ODI between Africa and Sri Lanka, the game had to be stopped due to bees. Toss South Africa won the match and decided to bowl first. Sri Lankans lost 4 wickets for 117 runs due to the strong bowling of South African bowlers. In the 27th over of the Sri Lankan innings when Chris Morris was bowling, then suddenly the whole bunch of bees came to the ground. As a result, all the players and umpires lie in the ground. Bees stayed in the field for a long time, for which the players came out crawling out. After this, there was an attempt to remove the bees through fire fighting equipment but there was no effect. Match referee stops the match until the bee flies. During this time, there was a lot of flies sitting on the wicket of the wicketkeeper Quintan Decoch's helmets. Because of this condition, the match was interrupted for 65 minutes.
Apple iPhone XS and XR, the company planning to be soon in India
Car stopped match
Between Delhi and Uttar Pradesh, there was a stir in the Ranji Trophy match at the Palam ground in Air Force, when a Wagon-R car broke into the security pitch and broke into the pitch. At that time there were players like Indian cricketer Ishant Sharma, Gautam Gambhir, and Rishabh Pant. Despite several security arrangements at Palam A Ground, this person reached the ground with a car. It was a good thing that the pitch and field did not hurt anything and the game started a little later.
Mukesh Ambani's Reliance Retail is one of the top 100 retail companies in the world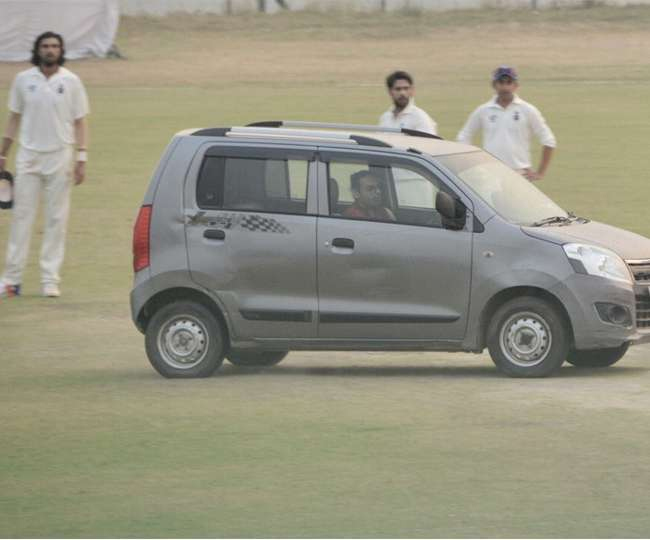 Burnt toast stopped the match
The New South Wales and Queensland match in the 2017-18 Sheffield Shield match stopped because of the fire alarm ringing. When the game was stopped, New South Wales was 18 runs away from victory and halfway through the game. In fact, Nathan Lyon burnt the toast and the fire alarm ringed. Firemen had come to the ground and had to evacuate that part of Alan Border Field.
Mission 2019: Re-seat sharing in the grand allianc, will now announce in February
Sharad Yadav says Mahagathbandhan will bring a big change in the country
Download Bihar board admit card for 10th, 12th