In the politics of Priyanka Gandhi, BJP has encroached on the Congress. The BJP spokesperson said that the Congress party can tarnish the Congress while Congress is the party of the same family. The concerned Patra said that appointment as Priyanka Gandhi's general secretary shows that Congress is the party of the same family.
Love leave for a school teacher in china's dinglan experimental middle school
Not only this, the concerned Patra has taken Rahul too. He said that the appointment of Priyanka Gandhi shows one thing that Congress has publicly accepted Rahul Gandhi's failure. After the rejection of the Maha coalition, the Congress needed a crutches of the house. He said that in New India this question is being asked that after Nehru ji, Indira ji again Rajiv, then Soniaji, then Rahul Ji and now Priyanka ji. In BJP, the party is the family, the family is the only party in the Congress. The difference is between us.
Lok Sabha election 2019 google strategy for election 2019: online advertisements
At the same time, BJP leader GVL Narasimha Rao also tweeted the Congress. He wrote that appointing Priyanka Vadra (Gandhi) as the General Secretary for the UP East is the most UN-EVENTFUL NEWS of 2019. Yet this is big news for the spaniards. Priyanka Card has been played before every election. Every time it proved to be flop There is a threat to family politics. '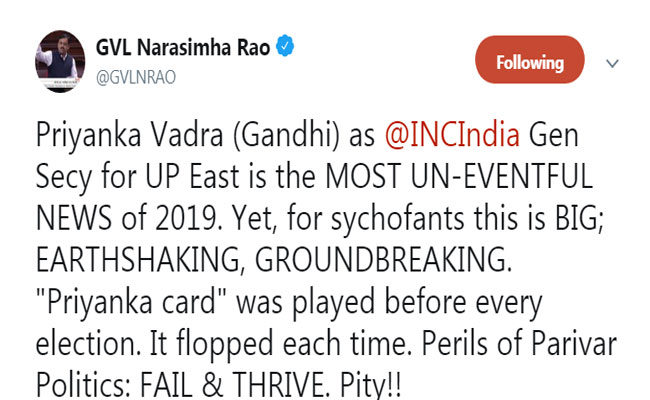 Significantly, before the Lok Sabha elections, Congress has taken a bigger stake and appointed Priyanka Gandhi Vadra as party general secretary. Priyanka Gandhi has been given the command of Eastern Uttar Pradesh and along with Priyanka's entry into politics. Priyanka Gandhi will now see the politics of Uttar Pradesh.
MS Dhoni Compared to Brock Lesnar in WWE
learn how to buy Redmi Note 6 Pro for such a low price
Flipkart Republic Day Sale: Buy these phones from Samsung to Xiaomi at a price lower than Rs 10000